Added At:  2011-09-07 8:27 PM   Last Updated At: 2011-09-07 8:29 PM
KATHMANDU: Lutheran Social Services (LSS) Services for New Americans is preparing to publish a bi-lingual guidebook for Bhutanese refugees of Nepali descent who have been resettled in New Hampshire of the US.
Funded by a grant from the New Hampshire Charitable Foundation, the Nepali/English 'Handbook for Living in the USA' will focus on the difficulties faced by refugees as they adapt to their new life in America, Amy Marchildon, the director of Services for New Americans said in a statement.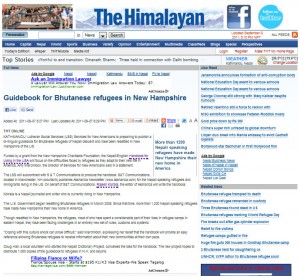 The LSS will subcontract with S & T Communications to produce the handbook. S&T Communications, located in Manchester, NH voluntarily publishes Aksharica Newsletter (www.aksharica.com) for the Nepali speaking refugees and immigrants living in the US. On behalf of S&T Communications, Rajesh Koirala, the editor of Aksharica will write the handbook.
Koirala is a Nepali journalist and writer who is currently living in New Hampshire.
The U.S. Government began resettling Bhutanese refugees in March 2008. Since that time, more than 1,200 Nepali speaking refugees have made New Hampshire their new home in America.
Though resettled in New Hampshire, the refugees, most of who have spent a considerable part of their lives in refugee camps in eastern Nepal, they have been facing challenges in an entirely new set of rules, customs and systems.
"Coping with this culture shock can prove difficult," said Marchildon, expressing her belief that the handbook will provide an easy reference allowing Bhutanese refugees to receive information about their new communities at their own pace.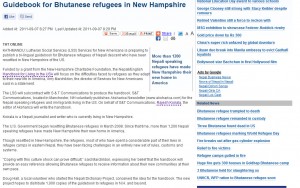 Doug Hall, a local volunteer who started the Nepali Dictionary Project, conceived the idea for the handbook. The new project hopes to distribute 1,000 copies of the guidebook to refugees in N.H. and beyond.
For original news
click
here.