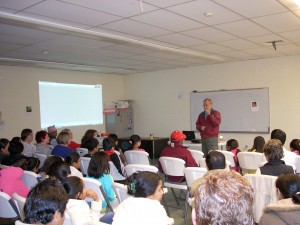 Bhutanese
Community of New Hampshire (BCNH)-Concord has inaugurated Nepali Learning Project amidst a special function in Concord, New Hampshire on Tuesday.
According to BCNH-Concord, a two-hour long program was organized in Immaculate Heart of Mary Church in Concord, NH. A sizeable number of American guests including from the resettlement agency, teachers from Concord High School, officials from different non-profit organizations, volunteers and resettled Bhutanese folks in the state attended the function.
BCNH-Concord further stated that Barbara Seebart, New Hampshire State Coordinator, inaugurated the program. During the program, Barbara highlighted the importance of preserving and promoting the first language and expressed gratitude to the community volunteers for initiating the needful project.
Speaking about the project, Bhagirath Khatiwada, Deputy Executive Director of BCNH informed that the project was launched to preserve Nepali language and literature, Bhutanese culture, arts and heritage while integrating into new society. Khatiwada also said that in the initial phase, priority would be given to the children between the ages of 6-11 to enroll in the class. "It is entirely a selfless volunteer effort initiated by the dynamic community volunteers," he added.
According to the BCNH Executive Director, Tika Acharya, Nepali Learning Project would be an example for the rest of Bhutanese resettled in different parts of the world. He also emphasized in preserving language, culture and heritage to maintain Bhutanese identity. Indicating equal responsibility of all, Acharya further said that the Nepali language, Bhutanese culture and heritage is not only of Bhutanese but it is also of the USA.
Another speaker, Annamarie Dipasquale, School Liaison from Lutheran Social Services stressed on involvement of parents in successful outcome of children. Linda Banks, Program Director, ELL Teacher, Concord High School stated that it is important to keep mother tongue alive because it helps in the process of understanding other languages. She further added that Nepali language is one of the identities of Bhutanese citizens and that it was important for them to preserve at all times.
Addressing the function, Jackie Winn, a former lawyer who became a tutor with the high school's English Language Learners program prioritized in preserving and promoting Bhutanese culture and Nepali language especially for young Bhutanese children who are at the verge of losing their mother tongue.
Doug Hall, who served four terms in the NH House of Representatives, motivated Bhutanese children to attend the classes to learn Nepali. He further encouraged parents to be supportive in the project.
Meanwhile, Julia Freeman-Woolpert, Outreach Advocacy Director from Disabilities Rights Center, citing her recent visit to Bhutanese Refugee Camps in Jhapa and Morang districts in Nepal, said that Bhutanese culture is very rich and that it should be promoted in the USA.
Rajesh Koirala, the Guest Editor of Aksharica Nepali Newsletter said that a country would be healthy with the mosaic of culture and languages. During the function, Subash Acharya offered vote of thanks to the audience and guests presented at the program.
(To get original posting

click

here, 2011 May 17)