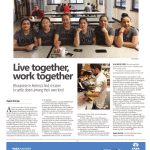 After two decades of living in bamboo sheds in camps in eastern Nepal, refugees from Bhutan resettled in the United States have found that adjustment to life in a new country is easier if they can live and work among their own people.
After being evicted from Bhutan in the early 1990s, being stateless in refugee camps in Jhapa and Morang for so long, more than 100,000 Bhutanese have been resettled in seven countries around the world, with the United States taking most of them.
After adjusting to culture shock, and overcoming the language barrier, most of them here have found jobs in large American companies so that they can live, commute and work together.
Narayan Gautam is among 200 Bhutanese who work at the large clothing chain Nordstrom in Harrisburg of Pennsylvania. Gautam and other Bhutanese who worked for Apple, DB Schenker, and Aerotech have all switched en masse to Nordstrom, which has policy to make it easier for immigrants to fit in.

Unlike Nepalis in the US who tend to work individually, the Bhutanese prefer to go where there are other compatriots. Pancha Bahadur Gurung, for instance works in a coat factory called Southwick in Haverhill of Massachusetts which employs 25 other Bhutanese. "Four years ago there were 60 Bhutanese here, but they have moved elsewhere now," he explains.
Thousands of Bhutanese work at Fedex distribution hubs in Texas, in dairy farms in Rochester of New York, and in chocolate factories in Vermont.
In Ohio state, where many Bhutanese refugees from Nepal have settled, the former refugees have flocked to the same company for employment. For example, Nepali is almost the lingua franca in an Amazon processing centre in Texas where more than 1,500 Bhutanese work.
Dalbahadur Basnet and five of his family members all work there, and he says proudly: "We now have a reputation for being among the top nationalities who perform well."
Nepali-speaking Bhutanese can be found from beginner level to medium to managerial positions in two Amazon centres in Ohio, too. Dhanpati Acharya is a programmer at Amazon, and says: "People like to work at Amazon because of good pay, ease of finding and leaving jobs, flexible timing, and other facilities."
Nepali-speaking Bhutanese have now fanned out across North America, working in stores like SK Foods, bag manufacturer Thirty One, medical equipment distributor Cardinal Health, Axium Plastics, KDC Cosmetics, Zulily readymade clothes, and poultry farms in Kentucky.
Bhim Koirala lives in Louisville Kentucky and says his friends have adjusted well for work at Amazon, Yangfeng motor parts, General Electric and Ford Motors.
Jobs are opening up for migrants and refugees from Syria, Sudan, Chad and Bhutan because so many employers here have found that white Americans are failing drug tests because of opioid addiction. Like migrants from Vietnam and Laos before them, the Bhutanese have found a niche working together in large companies where they can be among their own kind.
(Koirala is the editor of 'Aksharica', a Nepali-language newsletter in the United States. This article published in Nepali Times # 911 of 25-31 May 2018)