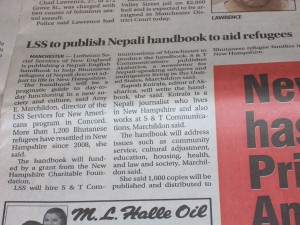 Manchester– Lutheran Social Services of New England is publishing a Nepali-English handbook to help Bhutanese refugees of Nepali descent adjust to life in New Hampshire.
The handbook will be a pragmatic guide to day-to-day functioning in a new society and culture, said Amy E. Marchildon, director of LSS Services of New Americans program in Concord. More than 1,200 Bhutanese refugees have resettled in New Hampshire since 2008, she said.
The handbook will be funded by a grant from New Hampshire Charitable Foundation.
LSS will hire S & T Communications of Manchester to produce the handbook. S & T Communications publishes Aksharica, a newsletter for Nepali-speaking refugees and immigrants living in the United States, Marchildon said.
Rajesh Koirala, the editor of Aksharica, will write the handbook, she said. Koirala is a Nepali journalist who lives in New Hampshire and also works at S & T Communications, Marchildon said.
The handbook will address issues such as community service, cultural adjustment, education, housing, health, and law and society, Marchildon said.
She said 1,000 copies will be published and distributed to Bhutanese refugee families in New Hampshire.
(From '

Union Leader

', a newspaper of New Hampshire, 2011 September 8th)